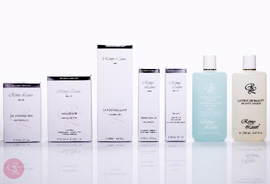 Beauty
Products
At Beauty Chez Renée
Beauty Chez Renee Inc uses Remy Laure skin care exclusively for face and body. Remy Laure is the original mineral skin care line and is manufactured in the south of France.
LCN (Light Cured Nails) from Germany provides an extensive range of nail colour available in regular polish or Recolution (Shellac). If artificial nails are your thing, LCN also provides a variety of gels and acrygel (Hybrid acrylic/gel) products.
Akileine, our foot care specialist, colour codes each product for target specific needs. Blue: dry feet, Red: hot and swollen, Green: for perspiration control. They also have a diabetic series that is DIN coded.
Skin & Body Remy Laure
Foot Care: Akileine